Author Archives for 4pccwpadm1n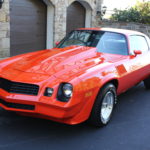 For your consideration is a beautiful example of a 454 Big Block 1979 Camaro.  Not only does it look good, but it goes good too!  The car was built to be safe, reliable and fast.  This car is street friendly and will hold its own at the track!  This car is a real Z-28.
Exterior: The orange paint is in great condition and is very shiny.  It appears to be a much higher quality paint than GM had in 1979, the paint job is amazing! There is no evidence of cracking, rust or major blemishes. The car is straight.  Glass is clear, all handles, vents, bumpers and bezels are in nice shape!
Interior: Seats, carpet, door panels, headliner and dash are all in great shape!  The upholstery is fresh.  There are no cracks on the dash pad.  The power windows and all of the gauges work.  The aftermarket CD player adds to the driving enjoyment.  [...]