Author Archives for 4pccwpadm1n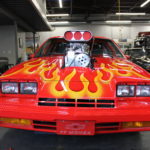 For your consideration is a 1977 Chevrolet Monza Spider Pro-Street car.
The best way to describe this car is the perfect mix of high quality work, lots of time and a lot of money invested.  That is what went into this higher end build.  No short cuts, cheap parts or quick tricks.  Everything is custom and high end.  The car is built to enjoy safely on the street but race if wanted.  I will walk through the condition of the vehicle below.
Exterior – Finished in a PPG Base Coat, Clear Coat, the red paint, flames and air brush work is very detailed.  The paint is show quality with almost no flaws.  The flames and spiders are stunning, very detailed and immaculate.  The body is very straight and door gaps are nice.  The glass is clear and in great shape.  All the moldings, wheels, lights and badges are in great shape.  You would [...]